Revision history
Google Docs, Sheets, and Slides have a revision history pane that allows you to view at a glance all changes made to a document by each collaborator. While it may not work exactly like a track changes tool, the revision history tool lets you view and revert to earlier versions of your document, spreadsheet, presentation, or drawing and see which collaborators made edits to any of these versions.
To access revision history, follow these steps: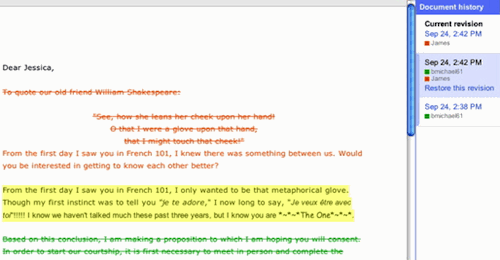 Note: Restoring your document to a previous version does not eliminate any versions of your document. Rather this version moves to the top of your revision history, maintaining all previous versions of your document, including the current version.
Select File > See revision history.
Click a time stamp in the right pane to see a previous version of the document, edited by the collaborators listed below the time stamp. Any changes made by a particular collaborator will be shown in the body of the document in the color assigned to that individual in the revision history pane. For example, James, whose edits appear in orange text, deleted and added text while bmichael, whose appear in green text, removed a paragraph and added a comment.
If you'd like to revert to the version you're currently viewing, click Restore this revision.
If you'd like to return to the the current version of your document to continue editing, click the X in the upper right of the 'Document History' pane.
For all Google Docs, Sheets, and Slides, revisions are grouped into short time periods to make it easier for the user to identify the slight differences between previous document versions. If you want to see more fine-grained revisions, click the Show more detailed revisions button in the lower right of your document.
Google Sheets sometimes trims down your revisions over time to save storage. If you're working in Google Docs, Sheets, or Slides, and your document is either large or you created it a long time ago, your revisions may be pruned. Visit the Revision Pruning help article to learn more about this process.
From: https://support.google.com/drive/answer/190843?hl=en&ref_topic=1361612